---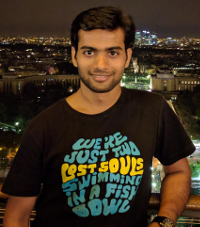 Hi! I am a PhD student in the David R. Cheriton School of Computer Science at the University of Waterloo.
I research and build graph processing systems as a member of the Data Systems Group with Prof. Semih Salihoglu.
Research Interests
I'm interested broadly in large-scale data management and data processing systems. Specifically, my current research is on managing and processing graph data.
I worked on Graphflow, a new open-source graph database that supports continuous queries and uses worst-case optimal join algorithms.
Currently, I'm working on how to automatically detect and clean errors in graph data.
Publications
The Ubiquity of Large Graphs and Surprising Challenges of Graph Processing. Siddhartha Sahu, Amine Mhedhbi, Semih Salihoglu, Jimmy Lin, and M. Tamer Özsu. PVLDB, 2017.
Graphflow: An Active Graph Database. Chathura Kankanamge, Siddhartha Sahu, Amine Mhedhbi, Jeremy Chen, and Semih Salihoglu. In Proc. ACM SIGMOD (Demo Track), 2017.
[
Google Scholar
] [
DBLP
]
Work Experience
Operations Engineer @ Media.net (July 2014 - August 2016)
Remote intern as Tech Wizkid @ Letsintern.com (May 2012 - March 2014)
Awards
David R. Cheriton Graduate Scholarship, 2017 - 2019
SIGMOD Travel Award, 2017
University of Waterloo Entrance Scholarship, 2016 - 2017